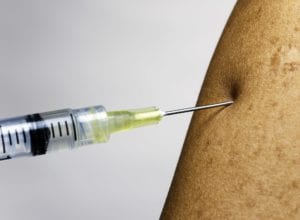 There has been a lot of talk about the COVID-19 vaccine and pregnancy. Some headlines are scary, while others are confusing. Shared Conception has done some research and would like to share what we have found.
Social media has been buzzing about the coronavirus vaccine causing pregnant women to miscarry. Although scary, this is likely, not true. There have been many recent and encouraging studies released by the American Journal of Obstetrics and Gynecology last month, informing the public about the good level of protection against the virus to both pregnant and lactating women, and likely their babies.
While most vaccines have been considered safe in the past, not many pregnant women jumped at the chance to be part of the trial for the new Covid vaccines.  And now, the claims of miscarriage that have circulated on social media have startled many pregnant women. These claims have been debunked according to agencies such as the MHRA (Medicines and Healthcare products Regulatory Agency), FDA, and the CDC.
"It's also important to note the Centers of Disease Control and Prevention and the U.S. Food and Drug Administration have stated there is no evidence the COVID-19 vaccine is unsafe during pregnancy, although both caution, there is still little data."
This has caused a high level of anxiety for both surrogates and intended parents. We have noticed that this is an important discussion that must be had between the surrogate and the intended parents. Everyone's feelings must be taken into consideration, especially that of the surrogate. This is an unprecedented avenue we have all had to explore and endure. Although it is a tough conversation, it has to be had.  And Shared Conception is here to help.
Shared Conception knows it is difficult to find reliable information about the vaccine when you are trying to research its efficacy and safety. If you are starting your journey, or in the middle of one and have questions, we are here to help you navigate through this unique period of time that we are all living in.
Shared Conception pledges to support you throughout the pregnancy. Interested in becoming a surrogate? Give us a call today or visit www.deliveradream.com to fill out an application request form! We would love to hear from you!