Let's be honest, when you're pregnant, it already feels like you're wearing a costume—there are definitely times when you don't feel like you're in your own skin. But you can transform that beautiful bump into the ultimate Halloween costume!  The internet is full of great information of DIY costumes that can be downright hilarious. We've managed to find some ideas so surrogates can join in on the Halloween fun and have a devilishly good time while doing it. Pregnant Halloween costumes can be easy, fun and comfortable – and you can put your belly to good use!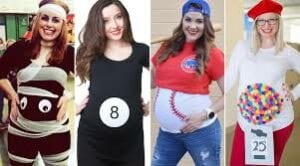 Not in the mood? Sometimes it is hard enough as it is to figure out what to wear on any given day. If you are just not into it this year, you really can just grab a comfy shirt and your favorite pregnancy pants and call it a night.  Don't feel pressured into making, wearing or buying a costume. Stay in and rest if you need to, there is always next year when you're not pregnant and have less going on! After all, a good Halloween movie and handing out candy to the neighborhood cuties is our idea of a good night!
Pregnant and craving sweets sometimes goes hand in hand. So, when you are in the store and see all the candy displays that make you feel like you are in Willy Wonka's Chocolate Factory, give yourself a chance to experiment. Does the baby like caramel and nougat? Feel free to find out. Just don't go overboard. Binging on sugary snacks is okay once in a while, but don't make it a habit; pregnant or not, it is not good for you.
Wondering how to be a surrogate or the surrogate mother process? Give Shared Conception a call today. We will answer any questions from the surrogate application process to surrogate pay. We would love to chat with you. You can also click here to read about the surrogate mother requirements to see if you could be a candidate.